WordPress is an easy-to-use blogging and website platform. If you have a Smart Business Hosting Only plan you will need to periodically make updates to your site. Even if you have a Smart Business Hosting Plus plan you will still want to make posts to the blog section of your site. These instructions will help you get started.
WordPress Posting and Updating
First, you must go to www.yoursite.com/wp-admin/ (using your own domain name in place of "yoursite.com") and log in to the administration or "back end" area of your site with the user name and password you were provided when your site was created. You may want to bookmark this page and have it save your log in info for quick access.
You will see your control area, called the dashboard, in the left column of the page.
The sections you will be working with are posts and comments, and occasionally pages.
If you are just getting started, the first thing you'll need to do is define several categories – the most common subjects you'll write about. Then make sure you check at least one of them for each post you write. You'll find the categories page in the drop down under "posts" on the left side menu.
Posting to your blog:
The most frequent thing you will do is make blog posts to add new content to your website. WordPress makes this very easy to do.
When you hover over the posts tab, you will find four options:
All Posts – which lists all your recent posts and drafts in order
Add New – which is where you go to create a new post for the blog page of your site
Categories – which lists the major subjects that you write about
Post Tags – which is a list of keywords you've used in your posts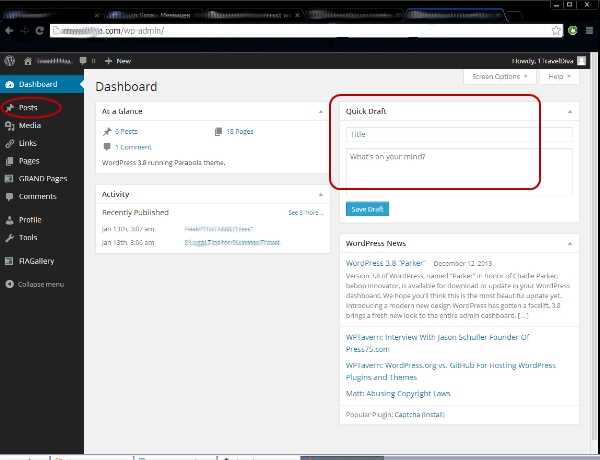 Click the "add new" option to write a new blog post. The set up is very user friendly and works just like a standard word processor. Hover your mouse over the icons to see what they mean if you are unfamiliar with the symbols. You can also add pictures, music and video by clicking to upload directly to your post.
Another option is the Quick Draft. You can also use this when you have a post idea but don't have the time or all the information you need to finish it. Simply write up an outline or notes of your idea, add a title and then click "save draft". When you're ready to finish it, you'll find it in the list under "posts".
Working With Comments
The next thing you have to keep up with is comment moderation. Once your site becomes popular and your blog develops a following, you'll want to monitor your comments very closely to keep the conversation going. One of the main purposes in having a blog is to make your site interactive; comments are the way this is done.
You'll also have to know how to deal with spam – an unfortunate fact of life on nearly all blogs. Although a captcha program is installed on every Vanessa's Desk Smart Business blog site to cut down on bots and automated comments, there will still occasionally be a few folks who leave nonsense or irrelevant comments in order to get a link back to their sites.
These are easily dealt with since your blog is set up to email you whenever someone new leaves a comment. You can trash these or add the offenders to the spam list with a single click.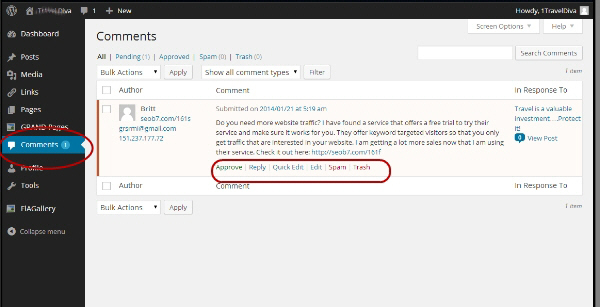 Of course there are many other things that can be done with your site and every business requires customization. Any of these tasks can be covered by a Smart Business Plus plan, or training sessions can be arranged for those who like to do-it-yourself. Contact me today to discuss your needs.