WordPress is an easy-to-use blogging and website platform. If you have a Smart Business Hosting Only plan you will need to periodically make updates to your site. Even if you have a Smart Business Hosting Plus plan you will still want to make posts to the blog section of your site. These instructions will help you get started.
WordPress Pages – Adding and Editing Your Content
First, you must go to www.yoursite.com/wp-admin/ (using your own domain name in place of "yoursite.com") and log in to the administration or "back end" area of your site with the user name and password you were provided when your site was created. You may want to bookmark this page and have it save your log in info for quick access.
You will see your control area, called the dashboard, in the left column of the page.
The section you will be working with is pages.
Adding and Editing Content
Clicking on the pages tab will take you to a listing of the pages in your website. Click on the title of the page you want to work on to open the page editor. It's also a good idea to open the page you are working on in a second tab or window. Save your work often (by clicking the "update" button on the right side of the screen), and refresh the live page so you can see the results as you edit.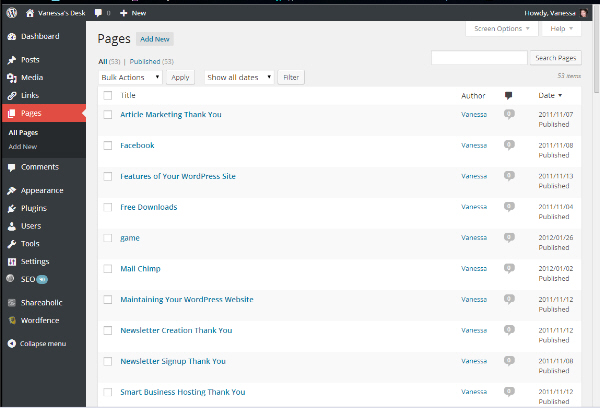 When placed on the "visual" setting, the editor works like most word processors; hover your mouse over the symbols to see what each one does. If you don't see the icons, first check to make sure you've clicked on the visual tab. You may also have to click the "show/hide kitchen sink" symbol to display all of the options.
Advanced users can click the "text" tab to use code to create certain effects, but this should only be used if you are very familiar with html and css tags.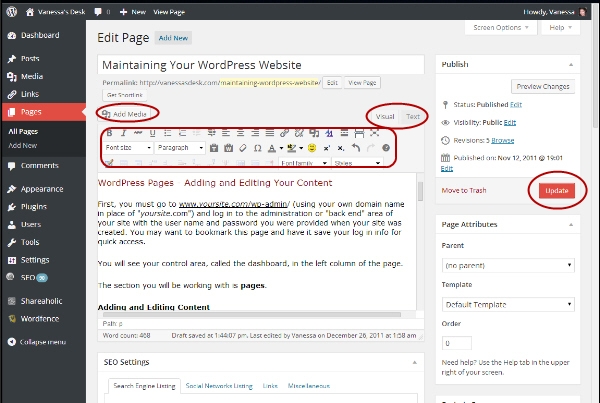 You can add pictures, music and video by clicking the add media button directly above the editor. This will present a pop-up box that lets you directly upload and edit your selections. Make sure you first click to place the cursor where you want the media to be located within your content.
Don't forget to click the "update" button to save your changes!
If your site includes a blog the process is similar to working with pages, and you can read the article Using Your WordPress Blog for specifics.
Of course there are many other things that can be done with your site and every business requires customization. Any of these tasks can be covered by a Smart Business Plus plan, or training sessions can be arranged for those who like to do-it-yourself. Contact me today to discuss your needs.