(This is an article I wrote for the Top 6 Productions Newsletter.)
This is the week that Americans gather to give thanks. We usually think of Thanksgiving as a "personal" holiday; a time to enjoy good food with family and friends and reflect on all the things we've enjoyed throughout the year.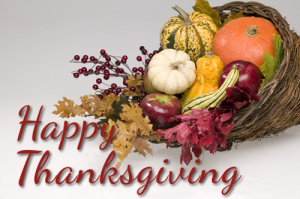 The ability to make a business out of our music, art or other passion is definitely something we can all be grateful for.
But sometimes it gets hard to maintain our enthusiasm. It seems every day there's bad news coming from somewhere; the economy still isn't that great for a lot of folks, greed and cruelty are all around and people are suffering. Added to those times when we get sick and little things go wrong all day, it's easy to lose focus, creativity and inspiration.
Even when things are going well, we still have to deal with disappointment and rejection. Not every deal comes together as planned; not every prospect will become a customer. Not every listener will buy or even like your music.
Do you have a plan for those times? Or do you feel tempted to scrap it all? How strong is your commitment to your dream?
More importantly, what do you do to pull yourself out of that slump?
Believe it or not, gratitude is the first step to getting back on track. All of the major belief systems express this in one way or another: To get more of what you want you must first show gratitude for what you have.
This can be hard when you're stuck inside your own misery, but it can be done. Start by being glad that things aren't as bad as they could be: there's always someone worse off than we think we are. Next, list and concentrate on the good things in life. And finally, do something for someone else. There's no better way to give the spirit a lift!
Happy Thanksgiving!
Comments
comments